As vintage winds up across much of Australia, researchers at the Australian Wine Research Institute (AWRI) are also starting to pack up their high vis vests and safety boots, as they finalise a range of vintage trials. Such trials form a key part of AWRI research, as the once-a-year opportunity to conduct experiments at a larger scale using freshly picked grapes.
This year's trials have covered a wide variety of topics across wine flavour chemistry, wine microbiology and process improvement.
AWRI bioscience researchers are trialling a yeast that produces high levels of 'rose' flavour in sparkling wine production for the first time, finding out what happens when you aerate a wild ferment and adding glutathione prior to fermentation to both sparkling base and still Chardonnay wine. Work on oxygen/aeration is also continuing, with trials looking at dose effects and the use of pulse air devices to get air into ferments.
The flavour chemists are investigating 'jammy' overripe flavours in Shiraz, clonal effects on 'apricot' characters in Viognier and effects of shading treatments on aged characters in Riesling. They have also been collecting grapes for studies examining ripening effects on aroma compounds in Shiraz and grape marc for work on flavour precursors. Smoke taint researchers undertook a mammoth task of 'smoking' tonnes of grapes and then making wine from them for use in remediation experiments.
The work doesn't end here, with, bottling, analysis and tastings to come throughout the year.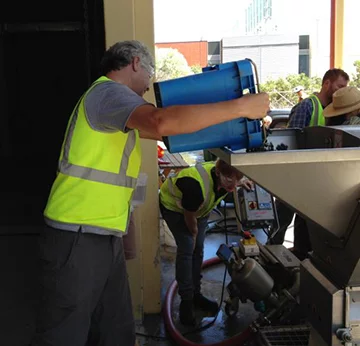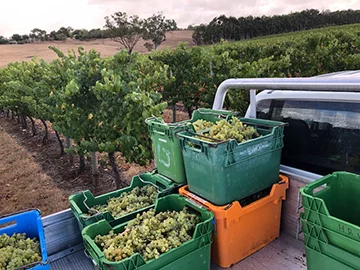 Trial explores breadth of Chardonnay winemaking options
For the past four vintages, the AWRI has conducted a winemaking treatment trial, evaluating the effect of different winemaking techniques on a single batch of fruit, and then taking the wines on the road in tasting workshops.
This year, for the first time, the trial is of a white variety – Chardonnay – and it has been designed to explore some of the many techniques Chardonnay winemakers have available to choose from.
The fruit for this year's trial was hand harvested from a vineyard close to Woodside in the Adelaide Hills between 5 and 12 March, and although the crop level was down, the fruit was in very good condition.
Sixteen winemaking treatments are currently in progress with a focus on the two main processing techniques of whole bunch pressing and crushing/destemming as well as treatments including varying solids levels, skin contact, low sulfur, different yeast strains and different temperatures.
The winemaking treatments included in the trial were carefully determined in consultation with a number of Australia's leading Chardonnay producers, and where possible, have been tailored to complement previous and current AWRI research projects.
The aims of the trial are to illustrate the sensory effects of applying certain research outcomes during winemaking, and to provide advice on the practical application of those research outcomes in a commercial setting. The wines will form part of the AWRI's extension program and be presented across Australia in pre-vintage roadshow workshops, in late 2019 and early 2020.